Detroit Golf Stores
When you're planning the ultimate golf trip in Southeast Michigan, you'll of course want to know where the best pro shops are. Think all Detroit golf stores are created equal? Think again. There are all encompassing sports stores like Dick's Sporting Goods where you can get everything for all of your favorite outdoor pursuits, to specialized golf stores like Golfsmith Detroit where you can find more of the hard to find golf accessories that you're after. Here are our favorite pro shops in and around the Metro Detroit area:
---
#1: Golfsmith Detroit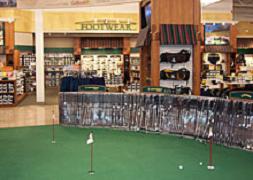 790 East Big Beaver Road
Troy MI 48083
248.740.9040
Golfsmith's Troy location is one of our favorite places for both shopping and equipment repair. Their full service customization and repair shop is the best in our area. They have a clubmaking workshop that teaches you how to make your own wedge that's yours to keep after the class is over, and even PGA Lessons by GolfTEC! It doesn't get more hi-tech than that. They've got events happening on a regular basis that will keep your game at its strongest, including Demo Day which features new products, TaylorMade VIP Events, and even GolfTEC Clinics to improve your swing. You can find even more information about this innovative pro shop at their website below.
Hours
Mon - Fri: 9:00 am - 9:00 pm
Sat: 9:00 am - 8:00 pm
Sun: 10:00 am - 6:00 pm
---
#2: PGA Tour Shop
1 Detroit Metro Airport
Detroit MI 48242-1004
734.955.7397
The PGA Tour Shop is located in the Macnamara Terminal at Detroit Metro Airport, and it couldn't be in a more convenient location. Whenever we're heading back into town from an out of state trip, we always stop in and pick up some new clubs or golf apparel. You may expect this to be a small shop since it's located within the airport, but it occupies a total of 2000 sq ft of space! They have every golf club and accessory that you could ever want. The store is managed by Jackie Thomas-Craft who is always happy to help you find just what you're looking for. Absolutely an essential visit for any dedicated Michigan golfer!
---
#3: Next Shot Golf Center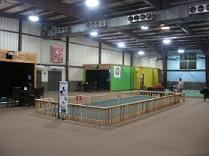 1120 West State Fair
Detroit MI 48203
313.368.1500
We already mentioned Next Shot Golf Center on as a bonus on our golf courses page, because of their excellent year-round golfing thanks to their high tech simulators. But they also house one of our favorite pro shops, complete with all of your favorite products produced by Nike, Callaway, and Wilson. The customer service here is top notch, and beginners will find that this is a great place to buy their golf accessories and head right out for lessons in the facility.
---
#4: Miles of Golf
3113 Carpenter Road
Ypsilanti MI
734.973.9004
Miles of Golf, ranked in the Top 100 golf stores by Golf World, is conveniently located in the Ypsilanti and Ann Arbor area to serve all of your golf needs. They've always got specials and events going on--at the time of this writing there is a special sale on Callaway and TaylorMade, and a Free Fitting Day coming up on the weekend. These types of events are always scheduled and displayed on their website (see links below) so you'll never miss a thing. We're mostly talking about their golf shop here, where you can get clubs, bags, and accessories, but they also have practice facilities, a learning academy, and club fitting and testing. Talk about a full service pro shop!
Hours: Mon-Fri 9-8
Sat 9-7
Sun 10-6
---
#5: Carl's Golfland
Locations in Bloomfield Hills and Plymouth
Carl's Golfland is famous for its great service and amazing selection of products. Golf World has voted them in the Top 100 golf stores nationwide since 1985, and they are the only store not located on a golf course who can claim that title. Their giant store is the largest in the entire Midwest. We swear by Carl's Golfland because they let you try the equipment before you buy it, right there at their very own practice facility. They've got both indoor and oudoor areas so you can shop year round, and they offer lessons by appointment only. Keep your eyes and ears open for Demo Days in March when you can hear it from the source about the newest and best equipment that's in stores.
Hours during the golf season:
Mon-Sat 9-10
Sun 9-9
---
#6: Nevada Bob's
Locations in Rochester Hills, Sterling Heights, and Dearborn Heights
Nevada Bob's was previously known as Golfer's Marketplace. Their locations are pretty evenly spread around Southeast Michigan, so no matter where you're headed from in this area, there's sure to be one in your neck of the woods. They've got the popular "try before you buy" feature, thanks to putting areas in the store where you can try out the merchandise. They've got all the top of the line products that you love. We love the golfers' paradise atmosphere here, with the "green" floors and clubhouse paneling!
---
#7: Pro Golf
Locations in Lansing and Okemos
With two locations in mid-Michigan to serve you, Pro Golf is your go-to place for the best golf balls, clubs, and accessories. They've got it all, including golf swing simulators and computerized fitting. This is quite possibly the best spot in Michigan to buy your golf shoes, because they've got more than sixty styles from all your favorite brands including Nike, Adidas, Etonic, Dexter, Lady Fairway, Bite, and more. With more than 8000 sq ft of retail space, you are bound to find what you're looking for here.
---
#8: Raven Golf Balls
6931 23 Mile Road
Shelby Township MI
800.238.0009
This is one of the most innovative locations on our list. Raven Golf Balls is a business that specializes in retrieving and recycling golf balls nationwide. They have been doing this for more than two decades. The "green" golfer will love making a positive impact on the environment, while also spending much less on golf balls. The balls look like brand new and only you will know the difference!
Hours (May thru October):
Mon-Fri 8-5
Sat 9-3
---
#9: Premiere Golf Center
30150 Gratiot
Roseville MI 48066
586.771.GOLF
Premiere Golf Center is one of the newest golf shops to open in our state. Located in Roseville, they offer a wide selection of golf clubs, golf apparel, and golf accessories. Their spacious retail shop is packed from wall to wall with all the greatest products from your favorite companies. Their website is new and apparently hasn't been updated with their information yet, but we have provided the link below in case they update that any time soon. For now you'll just have to head out to Roseville and check it out in person!
---
#10: Moose Ridge Golf Club Pro Shop
Located at Moose Ridge Golf Club in South Lyon
We mentioned on the golf courses page that we love the pro shop at Moose Ridge Golf Club. They've got a great selection of all your favorite balls, bags, and accessories. You can get incredible deals and specials, with the current ones listed at the link below. Tip: Bookmark it and check back often for all the latest sales! At the time of this writing they've got an amazing deal on Footjoy golf shoes, as low as $59.99 for shoes that would ordinarily cost you at least $149.99. They've got all your favorite brands here, including Titleist, Nike, Callaway, FootJoy, and Pinnacle.
Hours:
7:00AM-8:00PM
---
#11: Cherry Creek Golf Club Pro Shop
Located at Cherry Creek Golf Club in Shelby Township
The pro shop at Cherry Creek Golf Club is one of the most upscale golf shops in our state, and they really cater to the classy golfer. They've got all your favorite brands here, including Under Armour, Nike, Sun Ice, Antigua, Adidas, and Ashworth, plus equipment and accessories from FootJoy and Titleist. The course itself is award-winning, so it's no surprise that the pro shop gets our recommendation!
---
#12: Greystone Golf Club Pro Shop
Located at Greystone Golf Club in Romeo
Another great golf shop in Michigan is located at Greystone Golf Club. It's great to start the day by shopping for some new clubs and accessories here, then head out to the course to try out your new clubs, and wrap up the day at their wonderful restaurant. It's an all-inclusive experience at Greystone.
---
#13: Pine Trace Pro Shop
Located at Pine Trace in Rochester Hills
We'd rate this one best customer service in Michigan. They've got a wide range of equipment and accessories here, from all your favorite designer brands, including a notable selection of FootJoy golfing shoes. They have a truly excellent selection of golfers apparel and gifts. You'll find something here for just about everybody.
---
#14: Dick's Sporting Goods
Locations in Brighton, Chesterfield Township, Rochester Hills, Taylor, Troy, Utica, Westland, and two locations in Novi
Though Dick's is an all-around sporting goods store as opposed to the golf specialty stores that are included on this list, we had to include Dick's here because of their multiple locations in the Metro Detroit area. It's so quick to just run into one of their retail stores and grab what you need, whether it's some balls or a new club. No matter where you live in Southeast Michigan, there is probably a Dick's Sporting Goods location that's convenient for you to visit.
Hours:
Mon-Sat 9-9:30
Sun 10-7
---
#15: Jim's Pro Shop
33151 23 Mile Road
Chesterfield MI
586.725.9700
The final pro shop on our list is Jim's Pro Shop in Chesterfield. The convenient location, great prices, and wide selection of products from just about every brand we've ever heard of are just a few of the reasons to frequent Jim's Pro Shop. Extremely friendly customer service is another plus. Great place to stop for balls, clubs, apparel, and accessories!