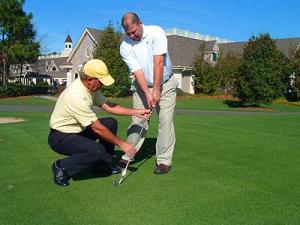 Detroit Golf Lessons
Whether you're a beginner at golf, or you just want to brush up on those rusty driving skills, golf lessons in Michigan are not hard to find. Just about every municipal golf course, private golf course, and pro shop offers lessons. However, it's not that easy to know which places have the most knowledgeable instructors who will really get your game into a much better place. We've done the hard work for you, researching the best golf instructors in Southeast Michigan, and listing them all in one place... right here! Just browse the list below to find the best choice for you.
You'll note that we did not include any golf courses on this list. Most if not all of the courses listed on our golf courses page offer lessons, and any one of them is a great choice. That's why they made our top picks! If you'd rather take your lessons at a golf course, just take your pick from any of the choices on that page. If you're looking for a year-round facility, any of these top five picks will work just fine:
---
#1: Next Shot Golf Center
1120 West State Fair
Detroit MI 48203
313.368.1500
Next Shot Golf Center is our top pick for golf lessons for several reasons! First of all, they are open year round so you don't have to limit your lessons to the warmer months of the year. Secondly, the instructors here really take the time to give you the attention you need, imparting skills that will serve you for a lifetime. Their golf simulators are the best in the state, and you'll also love having access to their incredible pro shop. The lessons are affordable and you can't beat the convenient Detroit location!
---
#2: Golfsmith Detroit
790 East Big Beaver Road
Troy MI 48083
248.740.9040
Golfsmith Detroit, really located in Troy, should actually be tied with Next Shot Golf as the two #1 places for golf lessons in our area. Both facilities have the high tech simulators, and Golfsmith has GolfTEC PGA Lessons and clinics that really help you improve your swing, your putt, and your overall skills on the green. There are events scheduled frequently that will also contribute to improving your game, and you'll be able to take advantage of their great retail offerings and repair shop. There are plenty of excellent training materials available in their shop too, from Hank Haney DVDs to the Eyeline Putting Impact System. We highly recommend the "make your own wedge" class. Check it out for yourself at the link below.
Hours
Mon - Fri: 9:00 am - 9:00 pm
Sat: 9:00 am - 8:00 pm
Sun: 10:00 am - 6:00 pm
---
#3: Miles of Golf
3113 Carpenter Road
Ypsilanti MI
734.973.9004
Miles of Golf in Ypsilanti is one of the best places to learn to golf or brush up on your swing. Kendall Academy is the name of their facility, and their trained instructors are experienced enough to bring your game to the next level in just a few lessons. You can easily book your lessons online at the link below, or give them a call at the number above.
Hours: Mon-Fri 9-8
Sat 9-7
Sun 10-6
www.milesofgolf.com/kendall.html
---
#4: Carl's Golfland
Locations in Bloomfield Hills and Plymouth
Carl's Golfland is known as one of the best pro shops in Michigan, having been rated as one of the Top 100 golf stores by Golf World since 1985! But beyond being an excellent place to shop for balls, accessories, clubs, and apparel, it's also one of the best places to learn how to golf or pick up some new skills. Their lessons are by appointment only, so make sure to call and make arrangements rather than just showing up during business hours. Carl's Golfland is definitely one of our favorites.
Hours during the golf season:
Mon-Sat 9-10
Sun 9-9
---
#5: Royal Oak Golf Center
3500 Edgar Avenue
Royal Oak MI
248.549.9500
Royal Oak Golf Center has much more than just lessons, including a range and mini golf. But if you're looking to learn the sport of golf, this is a very good place to start. They offer private lessons, group lessons, and custom clinics, and buckets of balls are provided free with all of them. The prices are very affordable and listed on their website so you can find a plan that works for you. Their friendly and experienced instructors are some of the best in the state.
Hours:
Hours change seasonally, please call for more information.